Levelling Up and Regeneration Bill gets Royal Assent
The Levelling Up and Regeneration Bill, first published in May 2022, has received royal assent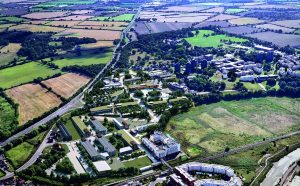 after over a year of parliamentary debate.
The Bill became an Act on 26 October, after being debated and revised by both parliamentary houses.
Changes to planning policy are set to begin coming into effect in 2024, but many sections of the Bill will require further legislation in order to be enacted. The main takeaways from the intended legislation are listed below.
Local plans
Local plans will be limited to influencing "locally specific" matters, such as "allocating land for development". Issues "that apply in most areas", such as heritage protection, will be covered by National Development Management Policies (NDMPs). Locally specific issues include the allocation of land for development and "setting out principle of good design". Local authorities must also have a design code that is "area-wide".
A system of street voting will allow residents to hold votes on whether planning permission should be passed on their street. This will "support a gentle increase in densities through well-considered, well-designed and locally supported proposals".
Local authorities
Local authorities will have greater powers to sanction "individuals who fail to abide by the rules and process of the planning system". "Existing loopholes" will be closed to prevent the prolonging of "unauthorised development" and permitting more time for the "investigation of breaches". Fines will be increased, and enforcement warning notices will be introduced.
Authorities will also have the power to rent out commercial properties in town centres that have sat unoccupied for 12 months. These powers "can be exercised at the discretion of local authorities, based on their local context and need".
Climate change
Ministers will have to consider climate change when preparing NDMPs. The initial amendment, which stipulated that ministers would have to "have regard to climate change when preparing planning policy", was rejected. Instead, the version of the amendment that was accepted specified that policies must "have regard to the need to mitigate, and adapt to, climate change, taking into account the range of climate scenarios".
Furthermore, the planning protection of listed buildings will also apply to certain parks and gardens. In order to "[protect] heritage", they will "enjoy the same statutory protection in the planning system as listed buildings and conservation areas".
Developers
The requirement for developers to engage with communities during the pre-application stage will be made permanent. Currently, the powers that enforce this expire in 2025. New guidance on community engagement has also been promised.
Also affecting developers is the increase of planning application fees by more than one third. Planning fees will increase by 35 percent for major applications and 25 percent for minor applications.
The complete and final Act has not yet been published, and there are further consultations to take place.